Wrinkle Reducing Injections
Experience your treatment with Maison Aesthetique
Good cosmetic products really do help to maintain skin tone but you may want to do more to refresh your look. While some of us may resort to surgery and have a face-lift, you may not feel this is the best option for you. Muscle relaxing injections using Botox available in Devon, which can be completely tailored to your face, offer you an effective and far less invasive treatment choice to smooth away lines and wrinkles.

Why come to Maison Aesthetique for your Botox treatment?
Dr Rupal Fatania BDS BSc has a gentle and relaxed manner, which makes her particularly popular with her clients. As our treatments with Botox in Devon are our most popular treatment, Dr. Fatania administers dozens of these injections every day, and is also skilled at diverse and advanced procedures such as Botox for hyperhidrosis (excessive sweating), and jaw and neck treatments. Dr Rupal Fatania uses Botox by Allergan, which is the only licensed brand of Botulinum toxin type A for frown lines, forehead lines, mouth lines, crow's feet, pain control and even depression.
Maison Aesthetique in Devon was voted the best clinic in the UK and Europe in a mystery shopping survey by Allergan for product knowledge and customer service, and we are one of the few clinics to be registered with the Government-approved IHAS.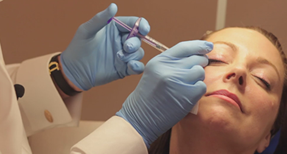 Botox treatment to suit your face
Discuss your needs at a free, in-depth consultation where all your questions will be answered
Receive advice on ways to maintain your skin in the best possible way
Early and late Botox appointments to fit around your busy life
Our comprehensive knowledge of head and neck anatomy and physiology, together with extensive training in the use of cosmetic treatments, give outstanding natural-looking results
Dr Rupal Fatania has been providing these wrinkle reducing treatments for over twenty years
Rupal is skilled in anti-wrinkle treatments, fillers and the 8-point lift (the nearest procedure to a face lift)
Keep your secret safe – leave with a flawless finish with a Youngblood mineral make-up makeover
Dr Fatania trains other medics in Aesthetic treatments
Lines and Wrinkles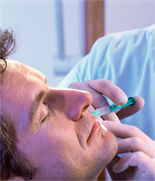 Lines and wrinkles can change our skin and appearance yet we all want to look our best. Life style choices obviously play an important part in looking after our skin, for instance: stopping smoking, avoiding sunbathing, always using a good SPF, eating a healthy diet and getting adequate sleep all help. However the alteration of the skin's natural elasticity and the effects of gravity result in loss of facial volume and the formation of lines and wrinkles.
So what can we do about it? Good cosmetic products really do help to maintain skin tone. Some of us may resort to surgery and have a face-lift. For many however this is an unacceptable option. An effective and far less invasive choice is treatment with muscle relaxing injections, such as Botox in Devon. Lines in the upper part of the face tend to be caused by repeated habitual muscle movements, for example, frown lines, crows feet around the eyes and horizontal forehead lines.
Prices
Botox treatments start at £195. The average facial treatment costs around £300. We have many new and exciting treatments that we discuss at your relaxed consultation. You will have a tailor-made plan to achieve the optimum result for you with our Botox treatment. We always like to give the best possible value.
These lines are greatly reduced by the precise injection of very small quantities of muscle relaxing medication. Botox is the most commonly used product. Botox is a popular treatment option that can be used to treat different areas that might be altering the appearance of your face: We can use injections to temporarily relax muscle activity. By preventing targeted muscles from contracting, it's possible to noticeably reduce or even remove the appearance of fine lines and wrinkles.
For more information about Botox treatment in Devon, or to book an appointment with a member of our team, please contact us today. Call us on 01803 864407, email info@maisonaesthetique.co.uk or complete our contact form.
Read more