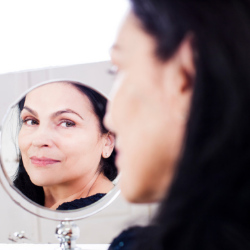 Some people don't like to see the signs of ageing appearing in their skin, but they don't want to commit to injectable treatments perhaps out of fear of seeming 'unnatural'. While injectable treatments like dermal fillers can look natural when performed correctly, we understand the need for naturally achieved results so as to keep your treatments confidential. As your Plymouth skin clinic, Maison Aesthetique would like to share with you some treatments that improve the appearance of ageing skin without seeming too obvious.
Microneedling
Microneedling is a very popular treatment for those seeking a youthful glow and a softening of fine lines. This treatment uses tiny needles in a handheld device to pierce your subcutaneous layer of skin. These tiny piercings register as micro-wounds to the body, so your skin's internal healing processes are kickstarted. Fresh collagen, the skin compound essential to bounce and laxity, is produced as well as fresh skin cells to replace those damaged. The regenerative powers of this healing work to give your skin an added youthful glow while also smoothing some fine lines and volume loss. Microneedling is available at our skin clinic, and we use the industry favourite Dermaroller for this treatment.
Mesotherapy
Mesotherapy is another popular and natural skin clinic treatment that focusses on improving the quality of the skin, not just augmenting to combat the signs of ageing. This treatment involves injecting natural extracts, homeopathic agents, pharmaceuticals, vitamins, and hyaluronic acid into the skin. Hyaluronic acid, as we all know, is a naturally occurring skin substance used to hydrate the skin, so introducing all of these ingredients to the layers beneath your skin helps to boost the health of your skin cells. This treatment is perfect for those experiencing the signs of ageing but aren't ready for augmentation using other injectable products such as Botox and dermal fillers.
Skin peels
Skin peels, or chemical peels, tackle the hyperpigmentation associated with ageing and sun damage. They create a controlled chemical exfoliation on the surface of the skin, damaging the top layer of skin cells and encouraging the body to shed them. A course of chemical peels at a professional skin clinic eventually sloughs away the damaged skin cells to reveal fresher, more youthful looking skin beneath. The production of fresh skin cells and collagen can subtly soften fine lines while also helping your complexion appear brighter and clearer.
Visit your skin clinic in Plymouth
If you're seeking subtle facial rejuvenation, Maison Aesthetique skin clinic offers both injectable treatments and skin treatments. To find out our professional recommendations, contact our skin clinic today on 01803 864407 to arrange your initial consultation.