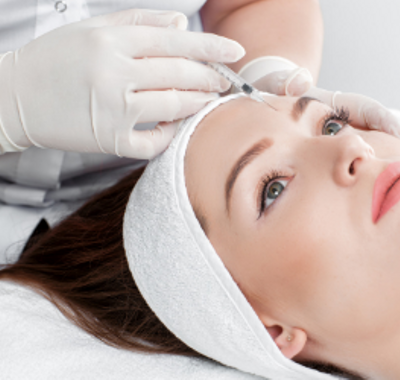 Ensuring that a treatment is safe is often at the top of people's priorities when considering facial aesthetics. Here at Maison Aesthetique, Exeter, we aim to provide a bespoke service supported by twenty years' experience and critical acclaim in facial aesthetics. We're here to assure you that, when performed at the right clinic, Botox can make a positive difference to your life.
What is botox?
Botox is a material made from a protein that occurs naturally in bacterium. It works by relaxing the facial muscles and interacting with nerve endings to prevent the release of the compound that triggers muscle contractions. This results in the softening of fine lines and smoothing of wrinkles, which then leaves a youthful appearance. It can also be given to correct dynamic lines and can even reduce excessive sweating and migraines.
What are the side effects?
Our expertise will ensure that any pain or discomfort you might experience during your treatment is kept to a minimum, though, as with any treatment, it's important to remember there may some minor side effects. For example, some people may experience some slight bruising or swelling immediately after treatment has been completed. This is completely normal and, during your consultation, we will always discuss with you any concerns or side effects that you should remain aware of. After treatment it is recommended that you remain upright as much as possible and avoid touching the treated area for a few hours. Again, this will all be discussed in detail during your assessment.
Is it safe?
Botox is very safe if performed by qualified practitioners in a clinical environment. In fact, the treatment has been used in medical procedures for over thirty years without any long term problems. As a member of the International academy of Advanced Facial Aesthetics and a fellow of the Royal Society of Medicine, Dr Rupal Fatania has years of experience in facial aesthetics. Our comprehensive knowledge of head and neck anatomy and physiology, together with extensive training in the use of cosmetic treatments, ensure that all patients will receive a safe and natural looking result. At Maison Aesthetique, Exeter, we like to meet all of our clients for an informal one-to-one consultation before any treatment goes ahead. This allows us to assess your needs in order to develop a personal treatment plan.
If you think Botox could be the right treatment for you, then feel free to contact Maison Aesthetique, Exeter. We would be very happy to answer any questions you may have or perhaps book you in for a consultation to begin your botox journey.